Central Heating Engineer covering Gateshead, Newcastle, Sunderland, Durham, South Shields and the North East
Central Heating Advice

Our fully qualified central heating engineers will offer you the best advice based on YOUR requirements. This includes not only the choice of Central Heating boiler, but also which type of system would best suit your household. We will also explain the differences between various systems and what they mean to you.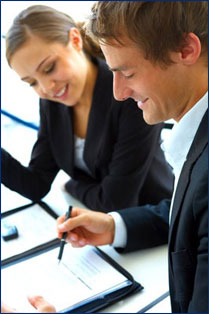 You will also receive a full written "no obligation" quotation within 24 hours of our survey.
Central Heating Design

We design central heating systems to suit YOUR needs and budget - we ask questions and then listen. We pride ourselves on customer satisfaction and believe that if we install a central heating system that suites you, your family and your lifestyle then you are more likely to recommend us to your friends and family (most of our work comes from recommendations).
Combi boilers
Combination boilers - more commonly known as combi boilers - are the most popular kind in the UK and provide heat and hot water with no need for water tanks or cylinders.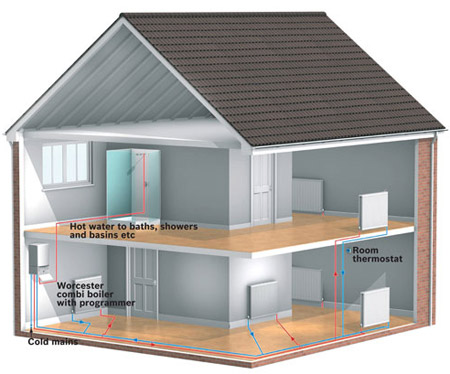 Pros

you get unlimited heat and hot water when you need it.
there's no need for a tank in your loft.
they don't take up much space.

Cons
The water pressure might be reduced if you need hot water from more than one tap at a time.

Suitable for
Almost any home, but best for homes where lots of people won't need lots of hot water at the same time. Eg Only 1 bathroom.
System boilers

System boilers - also known as sealed system / unvented systems - come with a water cylinder (which usually sits in an airing cupboard) and no water tank.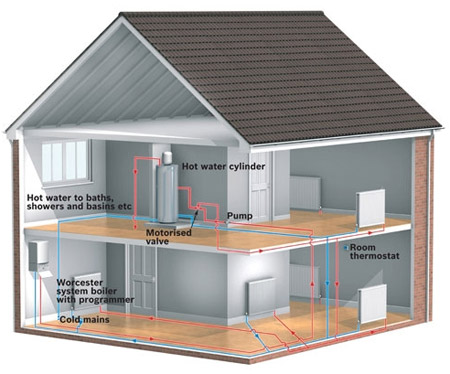 Pros

there's no need for a tank in your loft.
you can get hot water from multiple taps at the same time.
High pressure and increased flow rate of hot water – fast filling baths
High performance showering throughout the house

Cons

No storage back up if mains water fails
the hot water can run out and you'll have to wait for it to reheat (typically 15 to 20 mins)
you need to find room for the cylinder.
Expensive when compared to combi or conventional system

Suitable for
Larger homes with multiple bathrooms.
Conventional boilers

Conventional boilers - also known as open vent or regular boilers - have both a cylinder and a tank.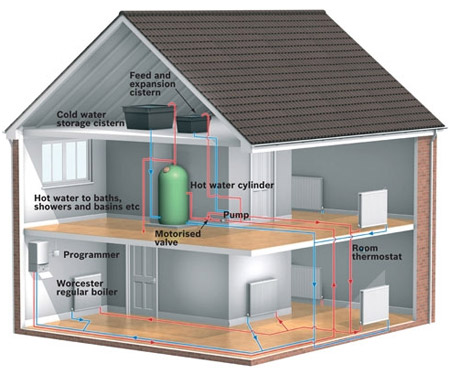 Pros

You can get hot water from multiple taps at the same time
Storage back up if mains water fails

Cons

the hot water can run out and you'll have to wait for it to reheat.
you need to find room for the cylinder and the tank.
Hot water pressure is generally poor.

Suitable for
Homes which need to have hot water in more than one place at the same time and where mains water pressure is poor.
Condensing boilers

Condensing boilers aren't strictly a boiler type - instead it's an attribute your boiler can have, e.g. you can have a condensing combi boiler or a condensing conventional boiler.

Condensing boilers are very energy efficient because they capture some of the heat which would escape from the flue of a non-condensing boiler and re-use it. This means they get more heat from the same amount of fuel, which will save you money on your heating bills.

All new gas boilers have had to be condensing since 2005 (although in exceptional circumstances non-condensing boilers are allowed).

Energy-efficient boilers

All new boilers are energy-efficient - since 2010 all new boilers must be A-rated for energy efficiency, or at least 88% efficient.
The energy efficiency rating system for boilers is called SEDBUK (Seasonal Efficiency of Domestic Boilers in the UK). All boilers are assessed and given a rating to help you pick a boiler that is energy-efficient, or see how efficient your existing boiler is.
Simple and hassle free
On completion of any notifiable work (e.g. new boiler / gas fire installation, you will be sent by Gas Safe the Buildings Regulations Compliance Certificate where appropriate