Central Heating and Gas Engineer - Gas Appliances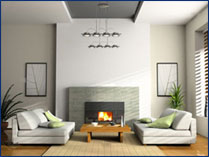 Gas safety is paramount in every home and as such we strongly recommend that you also install a carbon monoxide alarm with every fire or cooker.
Fires
Do you have a gas fire already or are your about to change your old one? GasFirst can service, repair and install all types of gas fires.
Your gas fire should be serviced every 12 months, not only to make sure it is working efficiently, but more importantly, that it is working safely.
Choosing a gas fire can be a difficult choice with all of the different styles now available. Some must have chimneys or a flue and some have a catalytic converter. Whichever you choose, there are a number of factors to consider before you buy:
Is the location suitable for a fire?
Has the chimney been checked for suitability or damage?
Do you have PERMANENT ventilation in the room (compulsory for some fires)?
Cookers
Do you need a gas hob installing by a professional Corgi registered Central Heating and Gas Engineer or are you thinking of a new gas cooker ? We can install all types of hobs or cookers.

We hope you will make gas GasFirst your first choice when selecting a Central Heating Engineer. We cover the North East including Sunderland, Newcastle, Gateshead, South Shields and Durham.